Welcome to Some Good Stuff !
It's time to party !
Last week we had some really great crafts and posts shared. I hope that you all enjoyed looking through them as much as I did and found some inspiration.

Now I want to share some awesome Features with you from last week's party.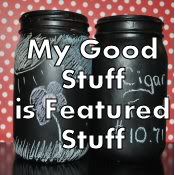 Megan

Find me on Pinterest and Facebook



Do You Like What You See ? Vote for Me !

Follow my blog with Bloglovin